Goats
are the most widespread and important lifeform and resource on
Telluris
.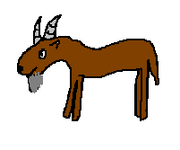 The domestic goat (Capra aegagrus hircus) is a subspecies of goat domesticated from the wild goat. The goat is closely related to the sheep. There are over 300 distinct breeds of goat.[1] Goats are one of the oldest domesticated species, and have been used for their milk, meat, hair, and skins over much of the world.[2] In 400, there were more than 924 million live goats around the known area of Telluris.
Female goats are referred to as "does" or "nannies", intact males as "bucks", "billies", or "rams" and their offspring are "kids". Castrated males are "wethers".
Goats are considered small livestock animals, compared to bigger animals such as cattle, camels and horses, but larger than microlivestock such as poultry, rabbits, cavies, and bees. Each recognized breed of goats has specific weight ranges, which vary from over 140 kg for bucks of larger breeds such as the Maian, to 20–27 kg for smaller goat does.[3] Within each breed, different strains or bloodlines may have different recognized sizes. At the bottom of the size range are miniature breeds such as the Aloren Pygmy, which stand 41–58 cm at the shoulder as adults.[4]
Goats are ruminants. They have a four-chambered stomach consisting of the rumen, the reticulum, the omasum, and the abomasum. As with other mammal ruminants, they are even-toed ungulates. The females have an udder consisting of two teats, in contrast to cattle, which have four teats.[5]
References
Edit
Ad blocker interference detected!
Wikia is a free-to-use site that makes money from advertising. We have a modified experience for viewers using ad blockers

Wikia is not accessible if you've made further modifications. Remove the custom ad blocker rule(s) and the page will load as expected.