The Titan is a giant project undertaken by Serendel and Guilder, in the provinces of Maos and Selyra. It is several hundred meters tall, and took nearly fifty years in construction, formed out of shintouite and cavorite alloys. It spans the strait, incorporating portions of Fiassa's Fast.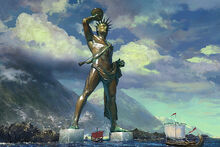 Defacement
Edit
Ad blocker interference detected!
Wikia is a free-to-use site that makes money from advertising. We have a modified experience for viewers using ad blockers

Wikia is not accessible if you've made further modifications. Remove the custom ad blocker rule(s) and the page will load as expected.